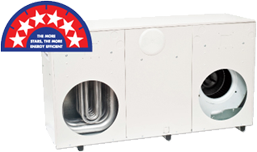 If you're looking for an air conditioner that can also keep you warm in the winter, then ducted air conditioning might be right for you. Seek, subtle, quiet, and user-friendly, ducted air conditioning is the smart and efficient form of climate control that you can use at home or in the office.
Read on for more information about ducted air conditioning for Burwood homes and businesses.
Ducted Refrigerated Air Conditioning Burwood
Ducted refrigerated air conditioning utilises an outdoor condenser and indoor ducts to keep your home cool. This system creates cool air and distributes it to the ducts throughout your home.
Utilising reverse cycle technology, your ducted air conditioner can also create warm air, helping to keep you both cool in summer and warm in winter.
Ducted Air Conditioning Installation in Burwood
There's a lot that goes into ducted air conditioning installations. You need to select and source the right unit, design the system, and have it installed in your property. At Premium Air, we can do this all for you. From consultation to system supply to installation, we'll handle the whole process.
All the Ducted Air Conditioning Services You Need in Burwood
Our service doesn't end after the installation either. To keep your ducted air conditioner in the best possible condition, we can service, maintain and repair your air conditioner as required.
To get the ducted air conditioning services you need in Burwood, contact Premium Air today.
Service Areas
Ducted Air Conditioning Burwood
Other Services in Burwood