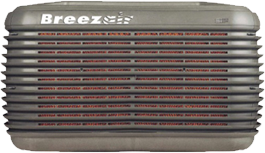 Evaporative cooling is the most antiquated technology solution. It completely works upon the scientific theory which says "Evaporation Cause Cooling". Evaporative cooling uses the natural cooling properties of water to lower the temperature of a room. Moreover, it is most distinguishable and salubrious technique of cooling.
Evaporative Cooling Installation – the Healthiest and Cost Effective
At Premium Air, evaporation cooling installation is the most cost effective process. An evaporative cooling unit is installed externally onto the roof of your home and connected to a series of outlets placed throughout the home. The ducted evaporative cooling unit exerts fresh air from outside your home and passes through the filter pads to get cool and therefore directed into your house. It does not use any refrigerant gases which are costly as well as harmful for life.
Evaporative Cooling in Melbourne- the Smartest Choice
Evaporative cooling in Melbourne has built an immense faith among the customers for ducted air conditioning options. Evaporative air conditioner gives the top notch quality, high performance natural cooling solutions for affordable price. It is an increasingly popular solution to keep your homes cool in the unpalatable and volatile summer temperature.
Evaporative Air Conditioner Advantages:
Inexpensive
Environment Friendly
Healthy and Safe
Most Helpful in Dry Areas
Why to Choose Premium Air for Evaporative Cooling?
With Premium Air, you get 20+ years of experience in the AC industry and providing the premium solution to heating & cooling all around Melbourne. Premium Air provides lucrative evaporative cooling prices with 5 year manufacturer warranty. We provide complete solution right from supply & installation and service at affordable evaporative cooling system cost.
Our expert technicians have industry experience with over 100,000+ managed installations and provide unique solutions that can work in almost any situation. Contact Premium Air for evaporative cooling in Melbourne and we will provide you with a comprehensive quote within 24-48 business hours.