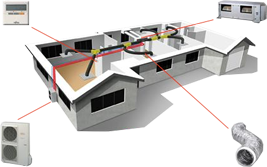 Are you looking for a sleek and user-friendly air conditioning system to keep your property comfortable all year long? Then get in touch with the team here at Premium Air, the go-to professionals in ducted refrigerated air conditioning in Melbourne and beyond.
Efficient, reliable, and quiet, these air conditioning systems are perfect for both residential and commercial properties, and offer outstanding value for money.
The Leading Name for Services and Solutions in Ducted Refrigerated Air Conditioning Across Melbourne
Here at Premium Air we are passionate about helping our customers find the right ducted refrigerated air conditioning system to work for their home or business. Our comprehensive measurement and installation services will have the outdoor unit, indoor fan coil, and platinum ducting of the system fitted in no time at all, causing minimal disruption to the day-to-day lives of our customers.
We're there to assist our customers 7-days a week, and are proud to be recognised as a respected name in services for ducted refrigerated air conditioning systems in Melbourne.
Expert Ducted Refrigerated Air Conditioning Services in Melbourne
When it comes to finding tried and tested services for ducted refrigerated air conditioning, Melbourne customers know to look to the skilled and professional team right here at Premium Air.
Our ducted refrigerated systems have a wide range of benefits, such as :
Efficient operation in any and all weather conditions
High-quality inverter technology
More affordable running costs than many other temperature control solutions
Reverse cycle systems for both heating and cooling
Versatile installation options for the outdoor unit
Reliable service when needed
Quiet operation
Top-Quality Ducted Refrigerated Air Conditioning Services Melbourne Customers Trust
You might be wondering why Premium Air is the name to trust for unbeatable services and solutions in ducted refrigerated heating across Melbourne. The answer is simple- it is because we have more than 20 years of industry experience behind us, and a proven track record.
All of our ducted refrigerated air conditioning services come complete with a 5-year manufacturer warranty, leaving you with the right system for your property and lasting peace of mind.
Our friendly technicians are fully licenced and qualified, and have provided 100,00+ installation solutions to customers across the local area, with services tailored to suit the job at hand.
For a free and competitive quote delivered within 24-48 business hours, make sure you get in touch with Premium Air today.