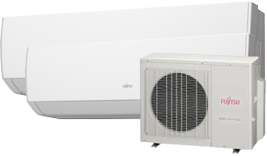 Multi-head split system is the most versatile air conditioning option. It is ideal for cooling large area such as town halls, gathering rooms or bigger houses. It is suitable for both residential and commercial use. Multi head split systems offers flexibility and convenience to choose the perfect indoor unit for each room in your house. Multi Split systems consist of one master outdoor unit which passes on the power supply to all indoor air conditioning units throughout the house.
Multi-Head Split Systems Installation – Flexible and Space Saving
Premium Air is highly honored to help in multi-head split systems installation all around Melbourne. Multi-head split system offers maximum piping length and therefore can be installed in large areas and even in several floors. Multiple interior units are connected to one outside device instead of several outdoor units. Multi split systems installation offers great versatility and space saving choices. The indoor unit is installed on a wall close to roof eaves and the outdoor compressor unit is installed outside either on a wall or on roof.
The two components are connected via insulated copper pipe and connected to either a local power source or the main power switch. No Worries how complex this task seems to but Premium Air will feel privileged to assist you in installations of your multi-head split system.
For more information, including our 7 year manufacturer warranties, contact us today. We can provide a quote within 24-48 business hours, or expert advice on how you can make sure your Melbourne home stays cool all summer-long.
Features of Multi-Head Split Systems Air Conditioners
Convenient and Economical
Independent unit control
Flexible and Space Saving
Ability to control temperatures individually
Enhanced elegant designs
Enhanced filtration system
Energy efficiency
Optimized comfort and reliability
Why to Choose Premium Air for Multi-head Split Systems?
Premium Air is having 20+ years of experience in the AC industry and providing the premium solution to heating & cooling all around Melbourne. Premium Air provides lucrative multi-head split system air conditioner prices with 5 year manufacturer warranty. We provide complete solution right from supply & installation and service at affordable split system cost. Our licensed technicians have industry experience with over 100,000+ managed installations and provide unique solutions that can work in almost any situation.
Contact Premium Air for multi-head split system air conditioning in Melbourne and we will provide you with a comprehensive quote within 24-48 business hours.