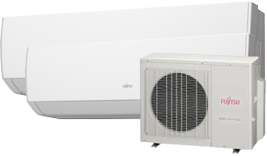 A popular and versatile air conditioning option, multi-head split systems provide Melbourne customers with a reliable and cost-effective temperature control solution for their home or business.
Consisting of one master outdoor unit and the choice of indoor units for each room, customers have the freedom to develop an air conditioning solution that is designed exclusively for their property.
The Leading Name for Services and Solutions in Split Systems Across Melbourne
Premium Air is proud to be the sought-after name for multi-head split system installation in Melbourne. These reliable and in-demand systems can be installed in both large and small properties without issue, and can even be extended across several floors making it the perfect air conditioning option for larger businesses or apartment complexes. The outdoor unit can be fixed to either the roof or walls of the property, allowing the multi-head split system to work with buildings featuring a renege of designs.
The Premium Air team can connect the new split-system to either a local power source or a main power switch without issue, helping to get the installation process completed in as little time as possible.
All of our high-quality multi-head split systems come complete with a 7-year manufacturer warranty, so get in touch with our team today to learn more.
Expert Split System Services in Melbourne
Thanks to our durable and easy to use multi-head split systems, Melbourne customers can stay cool and comfortable throughout the hottest parts of summer.
These reliable units offer a range of features, including:
Economical and convenient size
Ability to control each unit independently
Sleek and elegant designs
High-quality filtration system
Unbeatable energy efficiency
Reliable and made to keep you comfortable
Top-Quality Split System Services Melbourne Customers Trust
Premium Air has been a trusted name in the local air conditioning industry for more than 20 years, with our skilled and qualified team able to take on jobs of all sizes and deliver comprehensive and cost-effective service to all customers.
We're there to assist you from the very first consultation, through the supply of your new multi-head split system unit, and right to the last stages of the installation. The Premium Air team has completed 100,00+ installations across Melbourne and the surrounding suburbs, meaning our customers can always be sure of the quality of service and workmanship they will receive.
For a free and competitive quote on a multi-head split system service, Melbourne customers can contact the Premium Air team today and we will be in touch within 24-48 business hours.