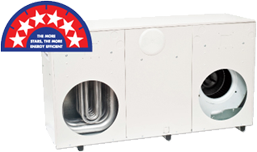 Gas Ducted Heating or Ducted Gas heating is a very popular and high efficiency system to heat your entire house. It has gained a great reliability during the age of energy prices rise. Gas ducted heating is the most suitable method of heating in Melbourne, as the outside temperature is not responsible for heat efficiency. Researchers found that gas ducting heating produced one third of heating produced by black coal-generated electricity in Melbourne.
For more information on our available service for gas ducted heating systems, Melbourne customers simply have to pick up the phone and call our team today.
Gas Ducted Heating Installation
Premium Air is happy to help in gas ducted heating system installation in Melbourne. Ducted gas heaters draw air through a fan and allow it to pass over a heat exchanger to get warm. A heat exchanger is placed in a furnace which is usually installed externally, either in the roof space or under the floor. Ducting connected to the heater helps in circulating hot air throughout the house. There are outlets, situated either in the floor or on the wall, which help to push warm air into rooms.
Experienced Premium Air executives can advise you on the best ducted heating system for your home. Our friendly staff, at Premium Air offer expert ducted gas heating installations and regular service, 7 days a week around Melbourne wide.
Benefits of Gas Ducted Heating
Highly Efficient and Inexpensive
Incredibly Versatile
Requires Less Maintenance
Uses Natural Gas or Liquefied Petroleum Gas
Multiple Temperature Control with Zoning
Gas Ducted Heating Services Tailored to Melbourne Customers
When it comes to finding the right gas ducted heating service, Melbourne customers know to call on the team that delivers comprehensive and cost-effective solutions that are adjusted to suit the job at hand. That's Premium Air.
We help our customers to stay comfortable and cosy in their home or business throughout the worst winter weather, and ensure that they have the best system installed in their property to deliver a consistent and reliable temperature control solution whenever it's needed.
Why Choose Premium Air for Gas Ducted Heating?
Premium Air provides gas ducted heating systems sales, installation, service, maintenance and repairs to Melbourne customers. We are having 20+ years of experience in the AC industry and providing the premium solution to heating & cooling all around Melbourne. Premium Air provides lucrative ducted gas heating system prices with 5 year manufacturer warranty. We provide complete solutions, including supply, installation and service, at an affordable cost.
Our licensed technicians have industry experience with over 100,000+ managed installations and provide unique solutions that can work in almost any situation. Contact Premium Air sale executives for complete quote for gas ducted heating in Melbourne.