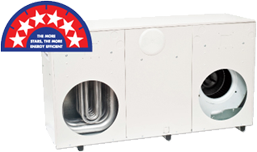 In an age of energy price hikes and bitterly cold winters, gas ducted heating is one of the best systems you can invest in. Gas ducted heating has a wide range of advantages and can be installed in either on-the-floor or on-the-wall set-ups.
Read on for more information about gas ducted heating in Doncaster and how we can help.
Why Choose Gas Ducted Heating in Doncaster?
Combining efficiency and cost-effectiveness, gas ducted heating is an all-round solution for combatting cold Melbourne winters. These systems are also low maintenance, can be zoned in different areas, and use either natural gas or LPG.
Premium Air: Doncaster's Leading Name for Gas Ducted Heating
With more than 20 years of experience, Premium Air can ensure your gas ducted heating system is set-up to combat the worst of the winter weather. Our licensed technicians have installed more than 100,000 systems and we can ensure you get the best solution for your needs.
Installations, Services and Repairs for Gas Ducted Heating in Doncaster
From the moment you partner with Premium Air, you get an end-to-end service. We will recommend, supply, and install the right system for you, as well as maintaining, servicing, and repairing it in the long term.
For more information or a quote, contact the Premium Air team today.
Service Areas
Gas Ducted Heating Doncaster
Other Services in Doncaster