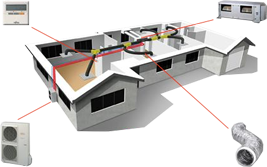 If you're looking for a natural yet effective method for cooling your home in Doncaster, evaporative cooling might be right for you. Here at Premium Air, we offer ducted evaporative cooling to help you beat the summer heat. Explore our budget-friendly products and talk to our team to select the right cooling solution for your home.
Why Choose Evaporative Cooling in Doncaster
Evaporative cooling is a method for beating the heat that doesn't require all the bells and whistles. This gives it a range of advantages over the alternatives.
Evaporative cooling is cost-effective, making it great for your wallet. It is also one of the best cooling options for the environment and it is healthy and safe for your family and pets.
Why Evaporative Cooling Is the Smart Choice for Doncaster Locals
In southern states like Victoria, we only get a few really humid days during summertime. That's great for evaporative cooling because it works best in dry environments. Your evaporative cooling in Doncaster can be tailored to your property size and needs, meaning you will always get a solution that suits you.
What Premium Air Can Do to Help with Evaporative Cooling in Doncaster
With more than 20 years of experience, Premium Air is the expert in evaporative cooling supply, installation, servicing and repair. Every system we install comes with a 5-year manufacturer warranty and excellent prices, so get in touch with us today to get started!
Service Areas
Evaporative Cooling Doncaster
Other Services in Doncaster