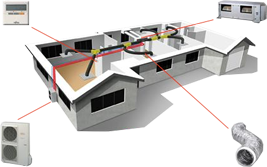 When it comes to dependable services and solutions in evaporative cooling, Box Hill customers know they can't go wrong with the team here at Premium Air.
We work with our customers from the initial consultation stage right through to the final installation, ensuring they are left with a temperature control system that is suited to the size and demands of their property.
Professional Evaporative Cooling Services for Box Hill Customers
Thanks to a Premium Air evaporative cooling service, Box Hill customers can stay comfortable in their residential or commercial property throughout the hottest stretches of summer. Evaporative cooling is a simple and effective way to cool any space, and provides an environmentally friendly and cost-effective alternative to many other air conditioning systems.
The Name to Trust for Unbeatable Evaporative Cooling Solutions in Box Hill and Beyond
Give us a call today on 1300 247 055 to get a free quote from a member of our qualified team.


Service Areas
Evaporative Cooling Box Hill
Other Services in Box Hill