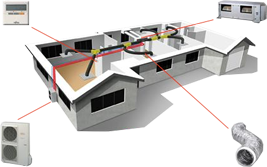 When it comes to professional solutions and services for evaporative cooling systems, Mornington customers know to trust the qualified and experienced team here at Premium Air.
We can provide tailored and cost-effective evaporative cooling services to suit both residential and commercial properties, and help our customers keep cool all summer long.
Professional Evaporative Cooling Services for Mornington Customers
Here at Premium Air we are proud to be the sought-after experts for all evaporative cooling services in Mornington and across the surrounding suburbs.
Evaporation coolers provide customers with an affordable and energy efficient alternative to many other air conditioning options, and are a breeze to operate.
The Name to Trust for Unbeatable Evaporative Cooling Solutions in Mornington and Beyond
For all further enquiries, simply pick up the phone and call the Premium Air team today on 1300 247 055..


Service Areas
Evaporative Cooling Mornington
Other Services in Mornington