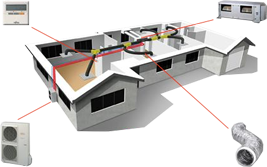 If you're considering your options for a new cooling system at home, it's worth throwing evaporative cooling into the conversation. Evaporative cooling systems offer an effective and natural way to cool your home, and they do this without sacrificing on efficiency.
Find out how the ducted evaporative coolers from Premium Air can benefit you today.
Why Choose Evaporative Cooling in Mount Waverley
When it comes to evaporative cooling, Mount Waverley residents will enjoy a wide range of benefits. This includes affordable installation and running costs, an eco-friendly cooling system, and a safe, natural, reliable solution. It's no wonder evaporative cooling is one of the most popular options in Australia.
Why Evaporative Cooling Is the Smart Choice for Mount Waverley Locals
Evaporative cooling works by taking in air and running this over water-cooled pads. This results in one of the freshest and most natural air conditioning solutions on offer. Evaporative cooling works exceptionally well in environments such as Mount Waverley and other Melbourne suburbs where the summer air is often hot and dry.
What Premium Air Can Do to Help with Evaporative Cooling in Mount Waverley
Premium Air can do it all when it comes to your evaporative cooling system. Ask us to recommend, supply, and install your system, as well as providing ongoing care through servicing, maintenance, and repairs.
To get a quote on a premium evaporative cooler in Mount Waverley, get in touch today.
Service Areas
Evaporative Cooling Mount Waverley
Other Services in Mount Waverley