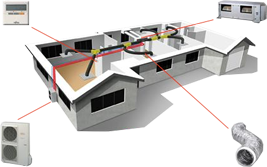 Looking for a cost-effective and comfortable way to cool your property during long summer days? Then speak to the Premium Air team about our range of evaporative cooling services and solutions.
We are the go-to name for tailored services in evaporative cooling across Balwyn and the surrounding suburbs, and work closely with each of our customers to ensure they receive a temperature control unit that suits their property.
Professional Evaporative Cooling Services for Balwyn Customers
Here at Premium Air we offer in-demand evaporative cooling services to Balwyn customers looking to keep comfortable in their home or business during warmer days and nights.
We're there to help from the first consultation to the final stage of the installation, delivering the high standard of workmanship that customers have come to expect from our skilled team.
The Name to Trust for Unbeatable Evaporative Cooling Solutions in Balwyn and Beyond
For a free and competitive quote on an evaporative cooling service, Balwyn customers can call Premium Air on 1300 247 055.


Service Areas
Evaporative Cooling Balwyn
Other Services in Balwyn