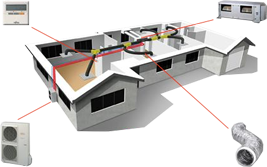 Get unbeatable services and solutions for a new evaporative cooling unit that is the perfect match for your property, thanks to the qualified and proven team right here at Premium Air.
We are committed to providing evaporative cooling services to Frankston customers who are interested in finding an affordable and energy-efficient temperature control solution for their residential or commercial property.
Professional Evaporative Cooling Services for Frankston Customers
When they are in the market for a new evaporative cooling system, Frankston customers know to call on the experts from Premium Air. Our comprehensive service covers everything from the first consultation with the customer to the final installation, and everything in between.
Contact our team today to learn more about how your home or business can benefit from a high-quality and professionally fitted evaporative cooler.
The Name to Trust for Unbeatable Evaporative Cooling Solutions in Frankston and Beyond
Want to chat to our team about a free quote? Then don't hesitate to call 1300 247 055 today.


Service Areas
Evaporative Cooling Frankston
Other Services in Frankston