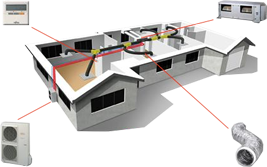 Are you confused about all the options available for cooling your home? If you are, we don't blame you!
There are many cooling solutions out there, but evaporative cooling might just be one of the best. Here are some of the reasons why it's worth considering evaporative cooling for your home.
Why Choose Evaporative Cooling in Wantirna
If we had to describe evaporative cooling in three words, they would be 'simple yet effective'. Evaporative cooling beats the summer heat by pulling in air, drawing it offer cooled water, and sending this throughout your home.
This simple system provides one of the most cost-effective, environmentally friendly, safe, natural, and healthy options out there.
Why Evaporative Cooling Is the Smart Choice for Wantirna Locals
As well as all the benefits above, evaporative cooling systems can be designed and installed to specifically suit your space. Evaporative coolers excel in hot, dry environments, meaning Melbourne summers will be no match for the power of your cooler.
What Premium Air Can Do to Help with Evaporative Cooling in Wantirna
Everything is taken care of when you choose Premium Air for your evaporative cooling in Wantirna. This includes consultation, supply, installation, maintenance, servicing, and repairs. Throw in a manufacturer warranty and you've got complete peace of mind.
To enquire about evaporative cooling through Premium Air, contact us today.
Service Areas
Evaporative Cooling Wantirna
Other Services in Wantirna