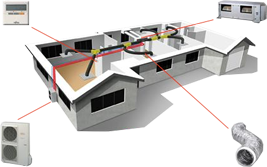 The perfect home cooling system is waiting for you at Premium Air. Contact our team today and find out how we can help you with ducted evaporative cooling. As one of the most popular solutions in Australia, evaporative cooling offers Rowville households a range of benefits that you simply must consider when it comes to cooling your home.
Why Choose Evaporative Cooling in Rowville
There are four main benefits that set evaporative cooling apart.
These are its inexpensive set-up and running costs, its environmentally-friendly operation, its natural cooling system, which is safe for all household members, and its excellent effectiveness in hot, dry Melbourne summers.
To learn more about any of these benefits, contact Premium Air to discuss your heating and cooling needs.
Why Evaporative Cooling Is the Smart Choice for Rowville Locals
Evaporative cooling takes the mantra of 'simple yet effective' and executes this perfectly in your home. The cooling it provides is safe, natural, effective, easy to use and easy to take care of.
You can have an evaporative cooling system tailored to your space to ensure it works effectively for your home and your lifestyle.
What Premium Air Can Do to Help with Evaporative Cooling in Rowville
Get advice, product recommendations, supply, installation, servicing, maintenance, and repairs from the team at Premium Air. We do it all when it comes to evaporative cooling, and we offer great warranties so you never have to worry.
Talk to us about evaporative cooling in Rowville today.
Service Areas
Evaporative Cooling Rowville
Other Services in Rowville