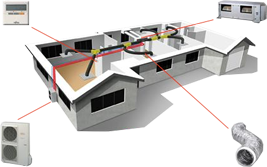 When it comes to safe, effective, and eco-friendly air conditioning in your home, you can't go past evaporative cooling. Glen Waverley residents will love the ducted evaporative cooling options on offer from Premium Air. We can help you beat the heat with the best range of products and extensive services.
Why Choose Evaporative Cooling in Glen Waverley
Evaporative cooling is a great all-rounder for many homes and families. It's environmentally friendly, easy on the household budget, and safe and healthy for everyone, including your four-legged friends. Using the natural power of water to cool your home, you can be sure you're getting a refreshing breeze every time.
Why Evaporative Cooling Is the Smart Choice for Glen Waverley Locals
The Melbourne suburb of Glen Waverley is the perfect place for a ducted evaporative cooling system. Evaporative cooling can add value to your property, and unlike our friends from the northern states, we aren't hit with excessively humid days very often. This means your evaporative cooling will keep working effectively all summer long!
What Premium Air Can Do to Help with Evaporative Cooling in Glen Waverley
Whether you're looking for system recommendations, supply, installation, or ongoing care, Premium Air is here for you. Contact us today for a new cooler with a great warranty and a lifetime worth of repairs and services!
Service Areas
Evaporative Cooling Glen Waverley
Other Services in Glen Waverley