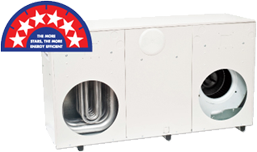 Whether it's for your home or your business, ducted air conditioning is a great way to keep comfortable all year around. Premium Air has specialised in heating and cooling for more than 20 years, and we can help you select the right ducted air conditioning in Rowville and across Melbourne.
Read on for more information about ducted air conditioners and Premium Air's services.
Ducted Refrigerated Air Conditioning Rowville
Ducted refrigerated air conditioning is user-friendly, sleek, reliable, quiet, and efficient. It utilises an outdoor compressor, which feeds cool, fresh and filtered air through a series of ducts in your home.
Thanks to reverse cycle technology, ducted air conditioners can also serve as heaters, helping to cool your space in the depth of winter. For highly effective results in every season, choose the ducted air conditioning services from Premium Air.
Ducted Air Conditioning Installation in Rowville
With more than 100,000 units installed, Premium Air can seamlessly add ducted air conditioning to your space. From product selection to supply and design, we'll take care of it all on your behalf.
All the Ducted Air Conditioning Services You Need in Rowville
As well as installation, Premium Air is here to service, maintain, and repair existing ducted systems. Our services will ensure you get maximum value for money for years to come. To get started, contact us today.
Service Areas
Ducted Air Conditioning Rowville
Other Services in Rowville