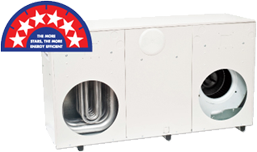 Don't want to sweat through another hot day in Frankston? One of the best methods for cooling your home, office, or factory is ducted air conditioning. Premium Air is proud to provide the best ducted air conditioning on the market today. Sleek, quiet, and user friendly, you can be sure that our ducted air conditioners will efficiently and reliably cool your home.
If you're looking for even more from your ducted air conditioning in Frankston, we can provide you with a system with reverse cycle technology. For more information, explore our services below or contact Premium Air today.
Ducted Refrigerated Air Conditioning Frankston
Ducted refrigerated air conditioning utilises an external compressor and internal ducts to keep you comfortable no matter the weather. In normal circumstances, your air conditioning will circulate fresh, filtered cool air through the vents, allowing you to beat the heat on even the hottest summer day.
With reverse cycle functionality on your side, you can also circulate warm air through the vents that will keep you comfortable all winter.
Ducted Air Conditioning Installation in Frankston
If you want a reverse cycle ducted air conditioner installed at your property, contact us today. With more than 20 years of experience and over 100,000 units installed, Premium Air can take care of everything from design to system supply to installation.
All the Ducted Air Conditioning Services You Need in Frankston
Want to keep your system in the best possible condition? We also offer servicing, maintenance, and repairs for all existing systems. Contact Premium Air today for all the services you need.
Service Areas
Ducted Air Conditioning Frankston
Other Services in Frankston