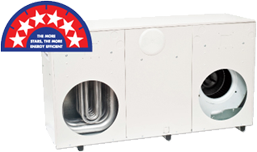 Invest in cool filtered air all summer long and comforting warm heat all winter. At Premium Air, we specialise in providing high-quality ducted air conditioning in Chadstone and the surrounding suburbs.
Attractive, easy to use, and whisper-quiet, ducted air conditioning is the efficient and reliable way to heat and cool your home.
Ducted Refrigerated Air Conditioning Chadstone
To install ducted refrigerated air conditioning, you need a condenser outside your home or business and ducts throughout the property. The condenser does all of the hard work and then distributes the cool air through the vents and into each room.
When you choose a reverse cycled ducted air conditioner, the condenser can also create warm air, providing year-round climate control.
Ducted Air Conditioning Installation in Chadstone
If you need help selecting the right unit and installing it in your property, look no further than Premium Air. Our professionals will consult closely with you, helping you to select the ideal system, planning the installation, and adding ducted air conditioning to your property.
With more than 20 years of experience and over 100,000 units installed, we are the name that Melbourne trusts.
All the Ducted Air Conditioning Services You Need in Chadstone
If you've already got a ducted air conditioning system, we can assist you with peace of mind services in Chadstone. This includes maintenance servicing and repairs for system.
For more information or a quote on our services, call Premium Air today or contact us online!
Service Areas
Ducted Air Conditioning Chadstone
Other Services in Chadstone