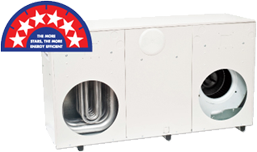 Whether it's for your home or business, ducted air conditioning is one of the most effective methods of cooling on offer today. In fact, ducted air conditioning can also heat your home, making it an all-year climate control investment.
With more than 20 years of experience and over 100,000 units installed, Premium Air can assist you with all things ducted air conditioning in Kew and across Melbourne. Read on for more information about why ducted air conditioning may be right for you.
Ducted Refrigerated Air Conditioning Kew
Visually attractive, user friendly, and whisper-quiet. These are all features that help ducted refrigerated air conditioners stand apart from the rest.
These systems make use of a condenser that's installed outside the property and sleek internal ducts. Cool air can then be distributed throughout your property reliably and efficiently. If you're after heating for your home or business, simply take advantage of the reverse cycle technology built into modern ducted systems and enjoy an air conditioner and heater in one.
Ducted Air Conditioning Installation in Kew
It's essential to get the installation process right. From design to supply to product selection and integration, Premium Air can take care of everything for you. Contact us for ducted air conditioning installation in Kew.
All the Ducted Air Conditioning Services You Need in Kew
To keep your system workings at its best, you can rely on Premium Air's maintenance and repair services. If you have an existing ducted system, contact our team for the servicing you need.
Service Areas
Ducted Air Conditioning Kew
Other Services in Kew